Looking For the Best Shopify Themes For Clothing Store in 2023?
If you're looking to start an online clothing store with Shopify, you'll want to find the best Shopify theme for clothing. A theme is essentially a design template that determines the look and feel of your online store. By choosing the right theme, you can create a professional and visually appealing online store that highlights your clothing products. There are many Shopify themes available, but not all of them will be suited for your store needs. Therefore, it's essential to take your time searching for the best Shopify theme for clothing. You'll want to consider features such as ease of use, customizable options, and responsiveness to mobile devices. The Good themes for clothing will also have unique features that make your store stand out from competitors. Overall, a well-designed Shopify theme for clothing is crucial for creating a successful and profitable online store.
Are you planning to venture into the apparel industry using Shopify? You're in luck! Shopify is one of the most preferred platforms for creating e-commerce stores. And with over 10 clothing stores Shopify themes to choose from, you can easily create an online store that stands out and attracts customers. In this article, we will cover 10 best Shopify themes for a clothing store.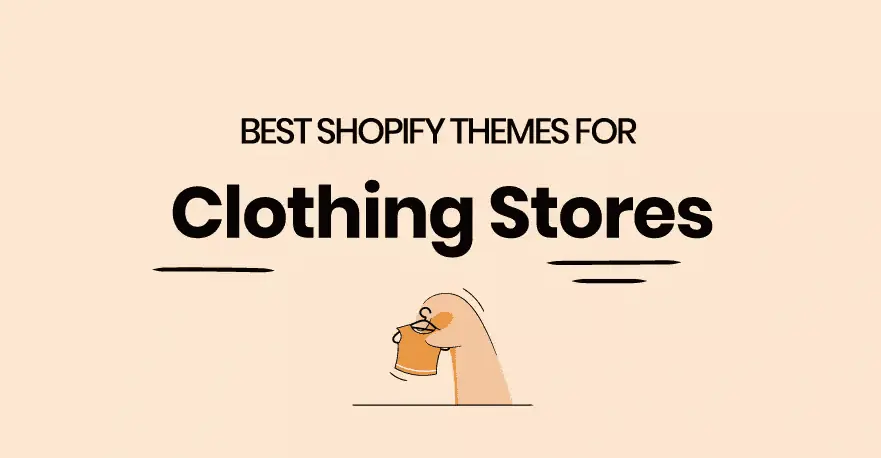 1. Introduction about Shopify theme for clothing store
Shopify is a leading e-commerce platform that allows merchants to create an online store easily. Shopify's user-friendly interface and powerful set of features make it the go-to solution for entrepreneurs looking to start an online business. Shopify offers a wide variety of themes for all types of businesses, including fashion and fashion stores. In this article, we will be discussing the top ten Shopify themes perfect for a fashion store.
2. Why Shopify theme for fashion is the best for a clothing brand?
Shopify's infrastructure is perfect for clothing stores as it offers a wide range of built-in features such as – Search engine optimization (SEO), advanced reporting, product organization, inventory management, and much more. You can also choose from a wide range of templates to customize the design of your store according to your business needs. Shopify comes pre-equipped with a variety of payment gateways to choose from that offer secure transactions.
3. Factors to Consider When Looking for a Shopify Fashion Theme
While selecting a Shopify theme for your store, consider the following factors:
The design of your online fahsion store is one of the essential factors to consider when choosing a Shopify theme. The theme's design should complement apparel's aesthetics, helping you attract customers' attention. The ideal theme should be visually pleasing, easy to navigate, and should showcase and highlight your products.
Most online shoppers worldwide browse through online stores using mobile or tablet devices. A responsive Shopify theme will enable your store to display optimally on any device, providing you with broader traffic and more significant opportunities for sales.
The theme you choose should enable you to customize your store's font styles and colors, add banners, hero images, and more. Customization options allow your fashion store to stand out from your competitors, providing a unique shopping experience to your customers.
When choosing a Shopify theme, it is important to consider the built-in features that come with the theme. As a fashion store owner, you will have to showcase a vast variety of products and offer different shopping options for your visitors. Therefore, themes with customizable product pages, built-in search and filters options, and other e-commerce functionalities should be a priority.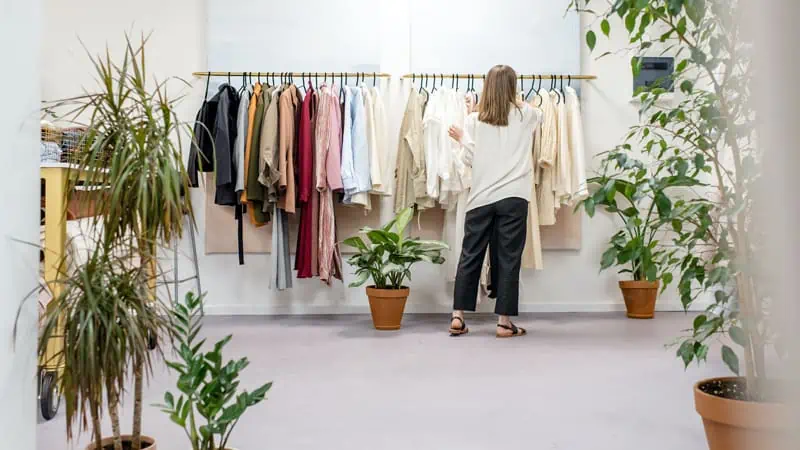 4. Choose The Best Shopify Theme for Clothing Store
Here are the ten best Shopify themes for a store:
Minimal is perfect for those looking for a clean and minimalistic design. The theme is easy to navigate, creating an excellent user experience for your visitors. The theme comes complete with size charts, product pages, and a header slideshow.
This theme comes with a storytelling feature, allowing you to describe your products and brand story in detail. Narrative offers several templates to choose from, such as Lookbook, Gallery and Showroom. The theme also includes a sticky navigation and customizable promotion tiles.
Debutify is perfect for those looking for an entirely customizable theme. The theme provides a set of robust and premium features that can build an immersive user experience. The theme comes with a one-click upsell app, abandoned cart recovery system, and product bundling feature.
Split comes with a unique split-screen design, making it stand out from other Shopify themes. The theme's design allows for a more engaging shopping experience, enabling you to showcase promotions and product collections clearly. The theme also includes a customizable homepage, sale countdown ticker, and a mobile-first design.
Empire is perfect for larger stores with a vast variety of products. The theme comes complete with an excellent search feature and several advanced functionalities such as multi-column menu, predictive search, quick buy button, and a product zoom feature. The theme's dark and bold design further enhances the fashion store's aesthetic.
Avenue's design is minimalistic and allows for easy navigation. The theme comes with customizable promotion tiles, custom blog templates, and built-in Instagram feeds. The theme's customizable header, footer, and sidebar give you complete control over your store's appearance.
Supply offers a unique design that emphasizes the store's products. The theme's dynamic homepage design offers a sidebar menu and product sorting system. Supply also comes complete with customizable labels to showcase discounts, new arrivals, and sale products.
Konversion is an entirely customizable theme perfect for experienced Shopify users. The theme includes a one-click upsell system, customizable product pages, collection pages, and check-out. Other features include social proof pop-ups, multiple button styles, and a customizable footer.
Booster is a high-converting Shopify theme that offers several built-in e-commerce functions and customization options. The theme comes equipped with powerful upsell and cross-sell features, customizable product pages, and endless customization options such as pop-ups, header bar, and countdown timer.
Setting up a Shopify store may seem like a daunting task, but with the right theme, creating a Shopify clothing store has never been easier. The Shopify platform offers a wide range of themes that can enhance the  store's user experience and create a unique interface to differentiate yourself from your competitors. We hope our list of the best Shopify themes for a store will be of great help to your eCommerce journey!
6. FAQs about Shopify store with fashion and clothing
1. How do I install a Shopify theme on my store?
Installing a Shopify theme on your store is a simple process that can be done in a few steps. First, you need to select a theme from the Shopify Theme Store or a third-party source. Once you have chosen the theme, you should download it to your computer. After that, log in to your Shopify admin panel and go to the "Online Store" section. Next, click on "Themes" and then click on "Upload a theme." Select the theme file you downloaded earlier and wait for the installation process to complete. Once the theme is installed, you can fix it to suit your needs by going to the "Customize" section.
2. Can I customize a Shopify theme by myself?
Yes, you can fix a Shopify theme by yourself using the platform's built-in editor or by editing the theme's code. Shopify's visual editor allows you to change the colors, fonts, and layouts of your website without having to write any code. However, if you want to make more advanced changes, you'll need to access the theme's code and make the adjustments there. It's important to note that editing code can be complex and requires some knowledge of HTML, CSS, and Liquid, Shopify's templating language. If you're not comfortable with coding, it's best to hire a professional web developer who specializes in Shopify themes to make customizations for you.
3. How do I choose the best Shopify theme for my clothing store?
When it comes to choosing the right Shopify theme for your clothing store, there are a few key factors to consider. First, think about the functionality you need. Do you want the ability to feature product videos, or do you need a theme with a robust search capability? Additionally, consider the aesthetic of your brand. You'll want a theme that aligns with your overall look and feel, including color scheme, typography, and imagery. Finally, think about the ease of use for both you and your customers. Is the theme easy to edit? Is the checkout process streamlined and intuitive? By taking these factors into account, you'll be able to get the best Shopify fashion theme for your clothing store.
4. Can I switch Shopify themes after selecting one?
Yes, you can definitely switch Shopify themes after selecting one. Shopify's theme store offers a plethora of options to choose from, and you might find yourself wanting to experiment with different themes to see which one suits your needs best. Switching themes is a straightforward process that won't affect any of your store's content or functionality. However, it's essential to ensure that the new theme is compatible with any third-party apps you have installed on your store. Moreover, you will need to manually edit the new theme according to your preferences and make sure that all the settings and functionality are working correctly.
5. Are there any free Shopify themes for fashion stores?
Yes, there are several free Shopify themes available that can be used for clothing stores. Some popular options include Debut, Minimal, Brooklyn, and Venture. These themes offer a variety of customization options, from changing colors and fonts to adding or removing sections on the homepage. It's important to note that while these themes are free, they may not have all the features of a paid theme and may require some coding knowledge to fully customize. However, they are a great starting point for businesses on a budget or those who are just starting out with their online store.