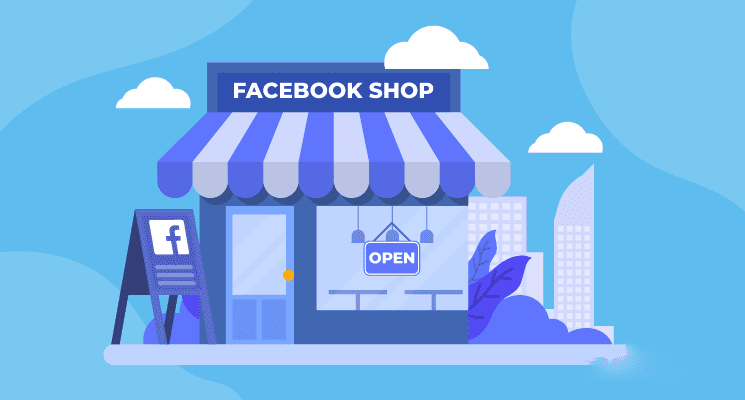 With the help of Facebook Shops, businesses can effortlessly sell their goods on Facebook and Instagram. Without knowing any code, sellers can create their online businesses, market their products through Stories, and interact with customers.
What Are Facebook Shops?
Facebook launched Facebook Shops for SMEs in 2020 to simplify online customers' purchasing process. Customers can explore, share, and buy products directly from the store using our native eCommerce solution.
A Facebook Shop page functions similarly to a storefront on your Facebook or Instagram profiles, and it is free to create one. You can sell items from your catalog and make the store specific to your branding.
The mobile-first in-app functionality of Facebook Shop enables transactions between customers and sellers in one location. It represents a step toward "F-commerce," as eCommerce professionals call it. Sales transactions on Facebook take place in this section from beginning to end.
Is Facebook Shop Different from Facebook Page Shop?
Although the terms are similar, the Facebook Shop and Facebook Page shop are distinct. You can immediately sell goods from your Facebook Business Page with the latter. Customers who click on an item on your website check it out.
The Facebook Shop, on the other hand, gives an already-existing Facebook Page shop a storefront and offers a more streamlined purchasing process that enables customers to complete their transactions without leaving the site.
Why set up a Facebook shop?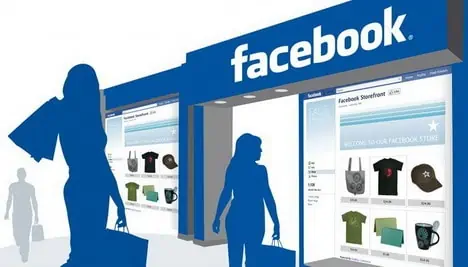 Any size of business can join the Facebook Shops train and get some benefits. Listed below are some of our favorites.
Seamless, easy checkout
For direct-to-consumer brands, Facebook Shops offers your customers a one-stop shopping experience. They can communicate with your company via Facebook Messenger, be led to an appropriate product, and then make a purchase immediately on Facebook.
This provides a seamless shopping experience. Directing a buyer to an external website, where it's simpler for them to become distracted and decide not to buy, is unnecessary.
Simplified cataloging
You will know how challenging cataloging can be if your company has an online store. However, updating and saving product information is quite simple with Facebook Shops.
Go to the Commerce Manager whenever you need to amend a product's details, such as its photos, description, price, etc., and make your changes in a matter of minutes.
Easy shipping process
Anything involving shipment is complicated. We comprehend. Fortunately, Facebook Shops makes things incredibly easy by allowing the seller (that's you!) to choose whichever shipping option they like, as long as it provides tracking and delivery confirmation.
If you need to change a shipment's specifics, go to the Commerce Manager to change the shipping details, such as the delivery cost, speed, and destination.
Increase your reach with ads
With approximately 3 billion monthly active users, Facebook is a hub of activity, with thousands of individuals accessing it every second across the globe. Running Facebook advertisements for your goods and Facebook Shop page will immediately increase conversions for your store and expose your company to new audiences and potential clients.
Deliver next-generation client service
I can talk to a company online and fix my issue without getting up from the couch.
Count me in!
Through Facebook Shops, customers may communicate with a company through Messenger, WhatsApp, and Instagram to aid with customer service, order tracking, and other issues. Similar to a physical store, brick, and mortar.
An AI-powered customer support chatbot like Heyday can save you work hours each week if you run an online store that uses Facebook Messenger or any related apps to communicate with consumers.
You don't need a website.
It might surprise you that not all internet commerce businesses require a website.
Because customers can enjoy the same buying experience organically within the Facebook Shop platform, businesses can do away with the requirement for a website. Consider the time and money you invest in hiring developers, paying for hosting and all the other costs associated with maintaining a website.
They add up!
How Do Facebook Shops Work?
With Facebook Shops, a commerce manager can help you set up a business on Facebook and Instagram. This tool doesn't need coding or technical knowledge, just like other eCommerce platforms. All you require is a tax identification number and a US bank account.
You may create and run a store inside of Facebook's ecosystem from the start. Facebook Shops is an all-inclusive shopping solution that includes marketing, sales, and customer service. You can also add a store created on another platform, though.
With Shopify, BigCommerce, WooCommerce, and other e-commerce platforms, Facebook provides integrations.
Facebook proclaimed the Shops feature to be a mobile-first tool when announcing it. As a result, Facebook Shops is ideal for mobile shopping. Additionally, every store created using this service instantly adjusts to every device type and screen resolution.
You may organize your products into collections with Facebook Shops, making it easier for customers to explore through your store. Additionally, vendors can alter the look, feel, layouts, and other elements of their shops.
The eCommerce platform on Facebook also has built-in analytics. Users of Commerce Manager can access information on the effectiveness of their shops. You can see different metrics depending on the kind of shop you've developed.
For instance, if you open a business on Facebook, you can monitor sales, traffic, and other metrics. If you've linked an existing store to Facebook, Commerce Manager will display sessions and click on the product details page (PDP).
Customers can reach your Facebook Shop from your profile on Instagram, through Instagram Shopping, or your main Facebook page. Follow our in-depth guide on Instagram Shopping to learn more about the different shopping formats that Instagram offers.
Thanks to Facebook Shops, potential clients can get in touch with you using Facebook Messenger, Instagram Direct, or WhatsApp.
They can ask inquiries, seek assistance, or keep track of delivery here. Even better, Facebook will soon permit users to purchase directly from messenger programs.
Remember that Facebook Shops is a relatively new function; it was just introduced in 2020. Because of this, it's restricted to a few nations, and many of its features are still developing. However, since it offers enticing advantages to your company, you ought to consider utilizing this eCommerce platform.
How Do You Create a Facebook Shop?
Before opening a Facebook store, you need to meet the following conditions:
A linked Facebook Business page and a Facebook profile.
At least 2000 people must like your Facebook page.
Physical objects only; no digital goods are permitted.
Your company needs a valid operating license in the nation where you're selling.
A tax identification number is required (TIN).
Your Facebook name must be associated with an active bank account.
There are two ways to join up for Facebook Shops: using Commerce Manager or integrating an eCommerce platform. The Facebook Shops user interface will guide you through each procedure stage.
What advantages does a Facebook Shop offer?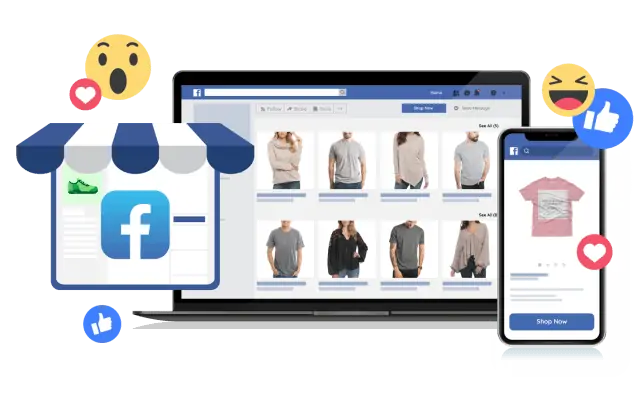 More than 90 million small businesses use Facebook to interact with a broader audience. Brands have access to various unique features and supporting advantages with Facebook Shops.
Tag products in Facebook posts to boost sales
Businesses may easily tag their products on Facebook postings thanks to Facebook Shops. Viewers may view the product and pricing information on the posted labeled product by hovering over the relevant icons and buttons. Since you only need to order a product in your Facebook Page updates, this function makes it simpler to market products to your followers.
Utilize Facebook's high level of social interaction
Brands with a Facebook Shop can use the social interaction tools on Facebook. Your clients can conduct actions they couldn't find on your website, such as sharing, commenting on, and saving the presented products.
Your brand's reach will grow tremendously with each click, enabling you to attract more customers. Thanks to Facebook Shops, a free, honest recommendation engine, potential buyers will visit your shop after seeing a friend interact with one of your posts.
Enjoy a smoother sales process.
Your brand benefits from making the purchasing experience as simple as possible for customers; friction can turn off potential customers and make it more challenging for your team to be successful. With Facebook Shops, customers can make purchases straight from the app without ever leaving Facebook or working with a third party.
The entry hurdle for many small business owners is lowered if you use a Facebook Shop because your company won't need a website to perform online sales. Additionally, Facebook Shops don't cap the number of items that businesses can showcase, providing unrestricted flexibility regarding virtual "shelf space."
Principles to Follow When Selling on Facebook
By putting time and effort into such promotion, social media marketing can significantly boost sales from your Facebook Shop. Fortunately, Facebook Shops already have a ton of features that, when effectively used, may increase the popularity and success of your company. Here are some of the best pointers for Facebook advertising success:
Make sure inventory is in stock.
Maintaining a well-stocked inventory is a tried-and-true approach to keeping your consumers engaged in your Facebook Shop, especially during Christmas. The dreaded "out of stock" message beneath a product listing is the fastest way to turn a prospective customer into a vocal detractor.
Ensure the information in your inventory about product availability is up to date. To prevent unintentional overselling, Facebook Commerce Manager even offers an option for US-based stores to enter the precise amount of products into the inventory information.
Use Facebook and Instagram ads.
With Facebook and Instagram ads, you can strengthen your brand's online visibility and reach a more vast worldwide audience.
Every time a customer searches for a specific product on Facebook, related products are displayed, increasing the visibility of your brand's products without you having to do anything. Making a solid ad plan for your company to draw in your target customer base is a fantastic place to start with Facebook advertising.
Provide rewards for recommendations
Businesses can use referrals as a means of both attracting new clients and keeping their current ones interested. Be inventive with your rewards! They could be presented as a coupon, exclusive deal, sale, discount, etc. The referral discount increases sales and broadens your clientele.
Talk to your customers.
Customers may visit your store and its featured collections through your brand's Facebook business page, Instagram profile, and the Instagram story once you've set up your Facebook Shop. You can provide customer service through Facebook-related communication channels like Messenger, WhatsApp, and Instagram Direct. The ecosystem is excellent, and it's all on one platform.
Conclusion
Facebook Shops could be a fantastic choice for businesses looking to expand their social media strategy or try their hand at e-commerce for the first time. Thanks to Facebook Shops, a one-stop buying experience has never been more straightforward.
Any online retailer may benefit from Facebook's enormous audience and deliver a seamless purchasing experience by utilizing this fresh, exciting product offering.