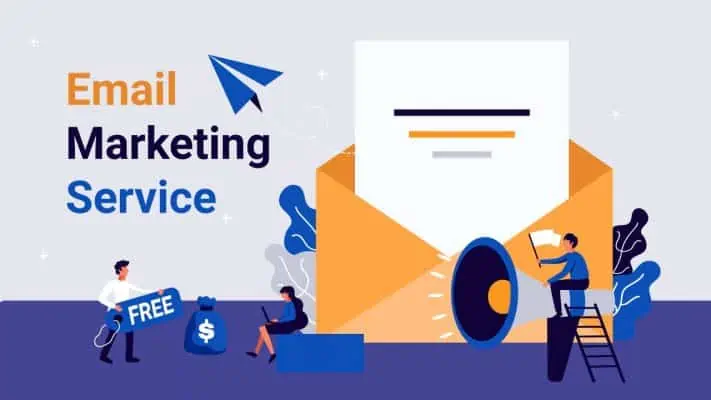 As you may know, email marketing is a potent tool for digital marketing. It is one of the highest investment returns per cost and grows every year. Making it super affordable, and everyone should be doing it!
From designing a beautiful email to seeing results as your audience opens them to be sent to your website to make a purchase.
When someone signs up to be on your subscriber list, they want to see your promotional emails!
We know how these promotional emails work. You probably have heard of the different email marketing platforms. This is where you collect email addresses and make sending emails possible.
Each email marketing service can be excellent in one area, so the question is, which service is exemplary for you?
It can be scary not to know what each platform excels in and is worthy of your time. So we'll start by showing what exactly is an email marketing service.
What is an email marketing service?
An email marketing service is a system you use to build an email list to create emails to send to people who signed up to receive them.
An email marketing service is a business that offers email services. Because email services come in different shapes and sizes, they can be a complex strategy for your business.
We'll break this down into how this works to make this easier for you. Many businesses use email applications as self-service. This means you can design and send emails, newsletters, and product promotions without help.
Some of those services will also offer a free version of the email software and help get familiar with the platform. While these email marketing services can vary in features, they all share the same essential benefits that include:
Create email templates or use design templates
Keep an email subscriber list
Used by the owner of the subscriber list for sending messages
Please send an email, allowing users to distribute their messages to subscribers
See reports and statistics of emails sent to measure success
The six best email marketing services for ecommerce stores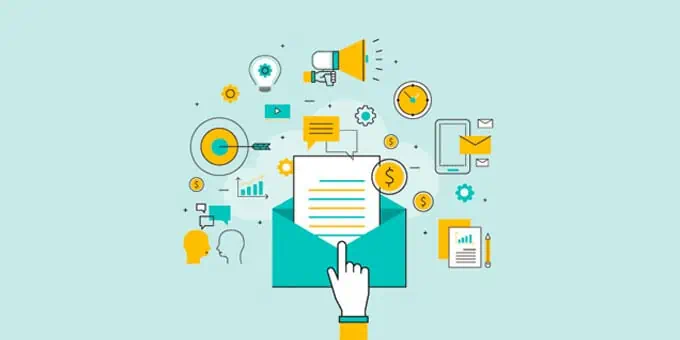 While there are many email marketing services, we picked out the top six worth your time and money.
Factors that went into are finding out:
The quality of features. Most email marketing services use essential features like capturing emails to build a list and designing emails to send. Others specialize or have access to special features no other email marketing service has.
The ease of use. There can be many menu systems, from navigating and designing emails to reading the analytics. This is why some email marketing services better present information than others.
The pricing. The pricing is different for each email marketing service due to the specialties and pricing structure based on your email list size. Some will be pricier than others, and we'll see if it makes sense for you.
Are you ready to find the best email marketing service for your ecommerce store?
If so, let's begin!
     1. Klaviyo
Who it makes for: Anyone who wants to explore what email marketing can do for you. The Klaviyo, email marketing automation, is for the newer online business with smaller groups.
If you are looking to take your first steps in marketing automation, Klaviyo's platform is user-friendly and has the tools to help you reach your audience.
Klaviyo is an easy-as-pie automation system. That can customize emails for customer lifetime value to brand loyalty, and emails can trigger messages based on what consumers do. Klaviyo's customizability with abandoned cart emails
If people make a purchase or click on an email, they place in a particular group that allows more specific ad targeting.
They also have a simple visual drag and drop builder. If you are looking to design emails for advertising campaigns and flows, Klaviyo's drag and drop editor is a breeze to use.
Many fonts and brand colors use for automation flows and default templates, and uploading your templates and designs is also there.
It is not a perfect platform, though. Klaviyo does not have a lead scoring. Lead Scoring is a must if you want to trigger an automation based on how engaged your customers are with your website and digital ads.
All is not lost, though, you can get a 3rd party application integration for it, but that'll be another bill to add to your expenses.
     2. MailChimp
Who it makes for: Beginners and small business owners who have a low or no budget. Even if you're new to the email marketing world, you probably have heard of Mailchimp.
The company started in 2001 and has a reputation for being a virtual email marketing platform for everyone. It features a user-friendly interface for small online businesses looking to keep their existing clients and shoot out easy and quick email marketing campaigns.
What MailChimp excels at is data reporting. You will never second guess what's and is not working for your email marketing. MailChimp has all the data you want to make intelligent marketing decisions.
Affordability is another key strength of MailChimp. If you're on a tight budget trying to get your business to become profitable, you'll become a big fan of MailChimp's free tier.
Mailchimp makes it easy for most of your tools to play nice together. The platform integrates with more than 200 different applications and web services.
There is a big problem Mailchimp has compared to the competition about platform integration. They no longer support the most major ecommerce platform, Shopify, due to indifference to using customer data.
If you would like to connect the two accounts, you'll have to go through a 3rd party application.
Limited automation options are another area Mailchimp struggles with. If you are searching for a robust automation platform, Mailchimp is not your go-to.
There are essential automation tools such as abandoned cart emails and product retargeting emails. Still, if you need a wider variety of automation, such as workflows and behavior patterns, Mailchimp will not do the job.
     3. Omnisend
It makes for those who want to connect with customers on every digital platform.
Omnisend is an all-in-one email marketing service built for e-commerce businesses. That said, it focuses on creating beautiful email campaigns easier while having apps to support ecommerce.
It's where the name Omnisend comes from – being omnipresent on all platforms! Using Omnisend's automation, you can personalize messaging to customer information, campaign participation, and shopping behavior.
Omnisend allows you to add multiple channels in the same automation workflow. This means email, texting, and browser notifications use together! Omnisend's omnichannel campaigns
Users may also sync sections to Google and Facebook retargeting ads to get return visitors or abandoned carts. Omnisend design to ensure this multi-channel advertising isn't just possible. It is easy to use.
Omnisend presents pre-built automation templates that consumers need to set up, like banners, cart abandonment emails, order updates, and order follow-ups. Drag and drop content editor allows users to design newsletters with no requirement to code.
There are email templates, Product Pickers, interactive Click-through rate boosters, and discount coupons – pretty much everything you need to give your customers a unique experience.
Outside of non-ecommerce, integrations aren't there, so if you like to do events or any physical retail-based stores, you're not going to find it at Omnisend.
     4. ActiveCampaign
It is made for: those who want to experience a well-rounded email marketing service. ActiveCampaign is an email promotional tool with almost all you need, whether you're just starting or already a known brand.
This platform focuses on automation with the most crucial goal of helping users send fewer emails while getting better results.
Autoresponders are a standard with ActiveCampaign, and these may be based on general selection conditions to ensure that the return to your clients is simpler than ever.
For example, when someone purchases from your website, they receive an email with order details and ways to upsell more products. They also use a customer messages feature to send you targeted messages directly to your site for a personal experience.
ActiveCampaign's automotive live chat for conversions. ActiveCampaign is an attractive choice because they pride themselves on helping you build better relations with your customers using their platform.
     5. Constant Contact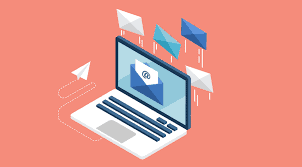 It makes for business owners looking to expand their digital storefront to physical locations.
Constant Contact is one of the earliest email service tools out there. They've become one of the most popular email tools globally, with over 650,000 customers.
Through the years, they've added several features like social campaigns and polls, which other platforms don't have—the range of features already available such as repeating newsletters and automation tools. Constant Contact's online survey tool
Their service has over 400 apps and integration with something for each product or service. It'll work with whatever you're using well.
Constant Contact has easy-to-learn navigation and email creation that makes the platform beginner-friendly. The problem with the email design is the primary and somewhat unpolished feeling to them.
While Constant Contact has automation features, they're set to essential emails that can be sent in a timed sequence or based on simple actions like opening a previous email.
Unfortunately, that's all there is, so if you're big into that feature, you will be disappointed.
     6. Sendinblue
Who it makes for: Beginners who want the simplest email marketing experience.
Sendinblue is a simple email marketing service. Design specifically for small businesses. You'll find the necessary tools for designing emails with automation and other ecommerce tools to send to your customers.
It is pretty easy to create an account and create an email compared to other services. It is also user-friendly for people who might not be technically savvy.
If you have a more extensive mailing list or regularly import lists from outside SendinBlue, you might look elsewhere. Sendinblue is great if you keep it inside the system but may cause problems if you import email lists out of the system.
Conclusion
As you drive through the world of email marketing platforms, you'll feel more at ease in understanding what features will be best for your ecommerce business.
Remember to look at the pricing as you grow your email list to know if it's worth continuing. Some platforms are more excellent at specific sizes than others, so note.
Best of luck on your chosen platform, and may your readers enjoy the ride!