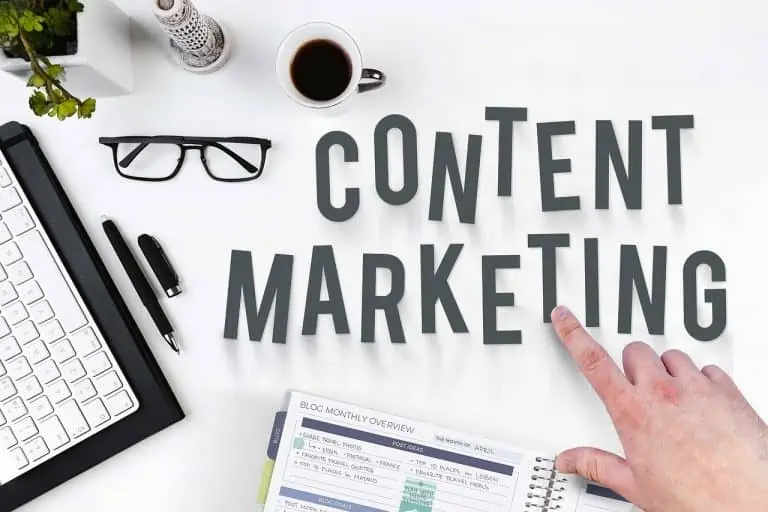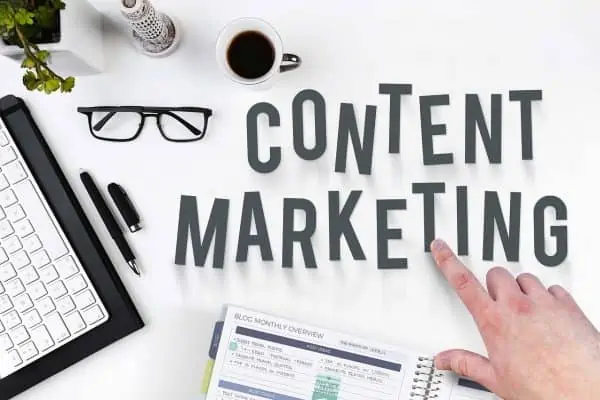 A content marketing strategy is a plan for building an audience by publishing, maintaining, and spreading frequent and consistent content that educates, entertains, or inspires to turn strangers into fans and fans into customers.
What is a content marketing strategy?
To understand what makes a great content marketing strategy, you first need to answer the question: what is content marketing in the first place? In summary, content marketing is a way for companies to showcase their thought leadership with SEO and content insights. It uses different content types (like blogs, videos, infographics) and distribution channels (like websites, social media, and email) to reach audiences.
A content marketing strategy is a detailed, focused plan that centralizes the components of your content efforts — content assets, distribution channels, data, technology tools, human resources, and more.
It includes:
All important brand information and guidelines
An execution plan
Details about the what, when, and who for each task
KPIs and a process for measuring them
When you develop a content marketing strategy, you take a holistic approach to creating and sharing content that furthers your goals and helps your business grow. You leverage your content intentionally to build brand awareness, drive organic web traffic, attract new customers, and establish your brand expertise.
Launching a successful content marketing strategy takes time, planning, and dedication. It also takes patience to see the total ROI.
Content marketing is not always a quick win, and those who create the right kind of strategy know that building results over time are part of the game. But when you do, you reap a return on investment exponentially bigger than you would with disjointed content marketing efforts.
Why do you need a content marketing strategy?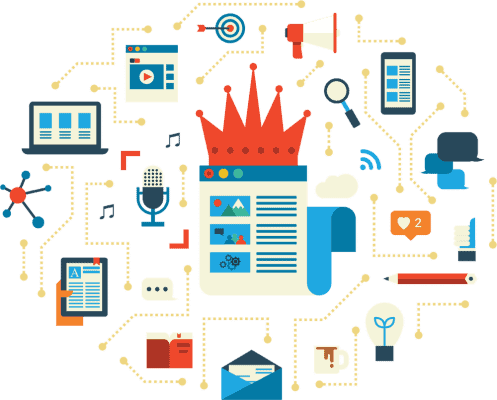 The way consumers interact with brands — from B2-B enterprises to your everyday individual — is changing. The internet has put buyers in charge of the buying process. They look online to find answers to their questions, solutions to their problems, and brands to help them do both.
This is happening in both B2B and B2C industries. Recent research found that 81% of retail consumers research products and brands online before purchasing or going to a store. B2B buyers conduct 57-70% of their research before reaching out to a brand directly.
When it comes to engaging potential customers during this research period, your content is doing most of the work. Some other quick reasons your company needs a content marketing strategy:
93% of all online experiences begin with a search. If you're not ranking on Google results pages, you're likely invisible to your target audience.
81% of consumers say brand trust is a deciding factor in purchase decisions. High-quality content is one of the most influential trust builders brands have in their arsenal.
Content marketing strategies empower brands to establish their expertise, industry reputation, and competitive positioning. Without content, your competitors control the narrative.
Building blocks of a winning content marketing strategy
Defined goals
It's impossible to create a strong content marketing strategy without setting goals — clear, well-defined, time-bound goals. Your goals lay the foundation for the rest of your strategy, give it direction and keep your team accountable.
You can start with goals related to your overall vision, then build out to include smaller goals your content can help you accomplish. Be sure your goals are aligned hierarchically — all of your smaller goals should have a clear purpose for helping to achieve the larger, overarching ones.
A qualified team
The makeup of your team determines quite a bit about your content marketing strategy. Your team determines your human bandwidth and your knowledge, skills, and industry expertise.
Some companies have an internal team responsible for all marketing initiatives. Many companies outsource content to an agency. Others take a hybrid approach by having their internal team partner with a hired agency.
So which is right for you? To decide, consider your internal team first. Do they have the time and qualifications to execute your content marketing strategy? If they do, you might be able to run in-house. If not, outsourcing or creating a hybrid team may be better options for you. In that case, you'll need to determine your budget and needs, vet potential agencies, and choose the agency that fits best with your company.
Your content
The bread and butter! Your strategy should aim to include a diverse set of high-value content delivered across several channels. We'll cover more about content types and channels in the next section, but here are a few best practices to keep in mind no matter which ones you choose:
Align your content to customer pain points
Pain points are specific problems that lead your customers to seek out your solutions. Nothing resonates more with potential customers than content that truly understands their pain points. It builds trust that your keys can successfully deliver what they need.
The value proposition canvas is a powerful tool for identifying customer pain points and finding the best ways to demonstrate your brand value.
Make all content SEO content.
Your content must be designed for search engine optimization. Without ranking on Google, even the best content will remain invisible to its intended audience.
Your KPIs
KPIs keep you from falling into the no-man's-land of never knowing if your content marketing strategy is delivering results. KPIs determine the success of a specific activity or initiative. Your content marketing strategy will have several target KPIs that you use to measure the different components of your strategy.
Important content marketing KPIs include:
Organic traffic – how many visitors get to your website from organic search results
Search rankings – how high your content is ranking on Google results pages
Conversions – number of users who took meaningful action on your website (i.e., subscribed to a newsletter, made a purchase, etc.)
Leads – number of inquiries or interested prospects generated by your content
ROI – the monetary return you get from your investment in your content strategy
How to develop and execute your content marketing strategy
Now you know the basics — why content marketing is essential, the building blocks of your strategy, and the benefits it will have on your business. It's time to execute to build a winning content marketing strategy customized to your E-commerce business needs.
Audit your current content
Performing a content audit gives you a handle on what resources you already have in your library. Believe it or not, this can be a gold mine! Repurposing old content is one of the top ways brands increase the ROI on their content and give traffic a boost.
You can also use your content audit to identify gaps you need to fill and opportunities to pursue new content.
Define your target audience
Targeting content to the right audience at the right time is a critical component of your content marketing strategy. But to do it, you first need to know who your target audience(s) is. There are three important parts of this step:
Identifying the problem's pain points, and requires people's experience when they're seeking your company's solutions
Empathizing with their emotions and experience
Providing the solution (in the form of content and, ultimately, your product or service)
When you develop your content with empathy, you tap into the true motivations people have for finding and considering your brand in the first place. You can better create content that makes your readers feel understood and creates a connection that is more likely to result in a lead or sale for your company.
Then, you can use the buyer persona framework to pinpoint exactly who is included in your target audience and what their unique pain points are.
Remember that buyers are not the only users included in your audience. Also, consider those simply interested in the topics you cover or who enjoy following your brand. These users may not buy from you directly (at least not right away), but they are potential brand advocates and can help you grow your following.
Look to understand their perspectives and include them in your content marketing strategy as you do for potential buyers. Once you've completed this step, you're ready to move on to planning your content.
Outline content channels
How will you deliver your content? With more channels than ever available for content delivery, you've got plenty of options. One thing is for sure: your content marketing strategy should be multichannel, sharing content in all of the places your customers are looking for it. Here are the important ones to know:
Blog
Your blog serves as the hub of your content library. Publishing frequent, relevant, high-quality blog content is the best way to drive organic traffic to your website.
Email
Consumers prefer email over every other form of brand communication. You can use it to share newsletters and blog content, nurture leads, promote special offers, and more.
Social media
Today more than half of consumers perform brand research on social media, and 90% buy from brands they follow on their accounts. Sharing your content on social media makes it more visible and shareable to your audience.
Video
Video is taking over! Cisco predicts that video will account for 82% of all online traffic by the end of this year, and people consume it more than any other type of content! You can use video to create educational content (similar to your blogs), share social media stories, or host online events.
Podcasts
More than a quarter of Americans are weekly podcast listeners, which is on the rise. Podcasting is a creative way to offer unique content like interviews with industry leaders or commentary on current industry trends and events. Podcasts are pretty easy to produce and publish, too.
Conclusion
You've got the knowledge and tools you need! It's time to develop your company's winning content marketing strategy.
While the methods used to deliver content to prospects are continually changing, the core principles remain the same — develop a top-notch Content Marketing strategy based on reliable data.
To ensure that your content marketing program remains on target, consider revisiting your channel strategy, core topics, and team processes annually — or more often if you are just getting started.
Good luck to you!