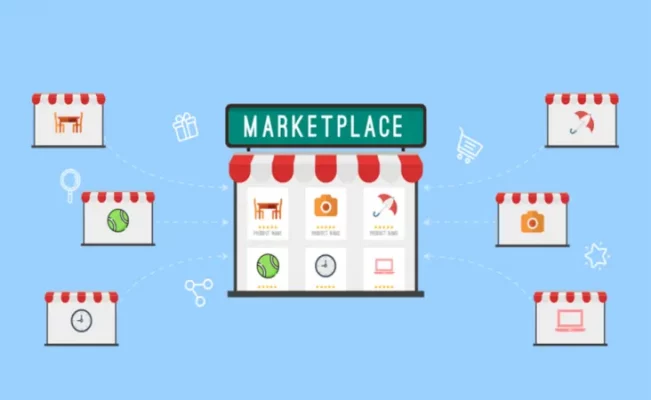 In today's economy, it's far easier to start an online marketplace than ever before. With multi-vendor ecommerce platforms, you can get an online marketplace of your own up and running fairly quickly.
Thanks to these turnkey software solutions, you don't need to hire a developer to build source code. It includes all the basic features and functions of a traditional multi-vendor marketplace, like Amazon, Walmart, or eBay.
If you want to start an ecommerce business of your own using the multi-vendor marketplace model, you need multi-vendor software to help you.
What is a Multi-Vendor Marketplace?
A multi-vendor marketplace is a single website where multiple people can sign up to sell their products and services. Each vendor has its storefront with product listings. Whenever someone searches for an effect on the site, any vendor who has that product for sale may appear in the results.
Major multi-vendor ecommerce marketplaces you're already aware of and possibly using today include Amazon, Walmart, and eBay. These use the horizontal business model, where multiple vendors sell various products not specific to any particular niche.
These multi-vendor software solutions also work for the vertical marketplace business model, which focuses on a specific niche. Airbnb, Uber, and Upwork are examples of vertical marketplaces – focused on hotel/lodging, rideshare, and freelancing.
Features to Look for in a Multi-Vendor Ecommerce Platform
As you evaluate multi-vendor marketplace software to use for your business, make sure it has the following:
Easy Registration Process
The ideal multi-vendor marketplace platform will support third-party onboarding merchants as sellers. If people have to go through too many hoops to complete the registration process, you will struggle to get merchants to participate in your program. Without merchants, your venture will work.
Vendor Portal
Vendors must also have a dedicated portal to easily access the information they need to run their store on your platform. Merchants need to be able to manage inventory, price, delivery time, shipping methods, and various other aspects of their business. Your portal needs to provide control over inventory management, discounts, cash on delivery, splitting of orders and payments, and more.
Sellers should also be able to track their earnings through your platform.
Operator Portal
As the site's primary operator, you must also have a portal to see a complete list of vendors and their activities on the platform. This is essential for customer service purposes if a customer reaches out to you because of an order gone wrong or poor customer support from the vendor.
Your operator portal should be able to easily administer payments to the sellers based on the revenue model you've selected.
Robust Search Features
If your multi-vendor marketplace platform lacks quality search features, customers won't be able to find what they're looking for.
Not all search features create equally. If your search lacks "smart" features, then someone searching for "dog leashes" who types something like "dg leesh" won't get any results. Your search needs to be able to return "did you mean" kind of suggestions or translate the typo well enough to serve up what the user meant in the first place.
The more granular the search options get, the better – because it makes it super easy for people to zero in on exactly whatever it is they are looking for. People should be able to search via category and narrow down items with various filters like price point, shipping speed, etc.
Variety of Payment Options
Today's consumers need flexibility in how they pay for products and services. The more options you have available for your vendors to accept, the better.
This improves the overall shopping experience and makes it easier for them to move through the checkout funnel, decreasing shopping cart abandonment.
Go beyond accepting all major credit cards to offer other payment options like mobile wallets (Google Pay, Apple Pay, Amazon Pay, etc.) and PayPal, Venmo, etc. If you have an international audience, make sure there are multi-currency options with something like WorldPay.
Why Invest in Multi-Vendor Marketplaces?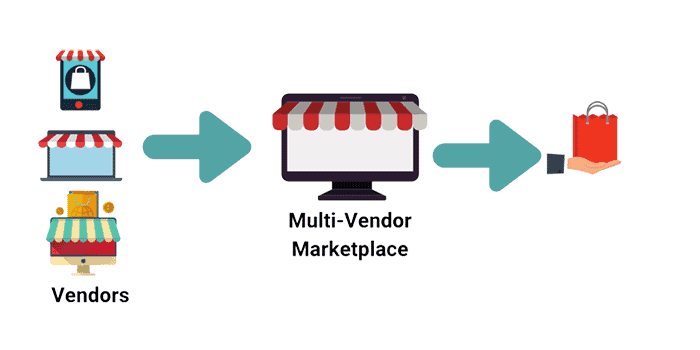 Freedom from Inventory Management
With a multi-vendor store, inventory management, storing, warehousing, picking, and packing are no longer your responsibility. The sellers who sell in your store need to take care of it. This exclusion comes as a relief because it helps you save time, space, and additional cost.
Lower Investment
It's a no-brainer that setting up an online marketplace requires lesser investment because your resources are only direct towards maintaining an online platform and providing shipping. The remaining marketing, packaging, and inventory management expenses are no longer your headache.
A Vast Variety of Products
When you open your store to sellers, they list a range of products on your store. It can lead up to many categories that contain products catering to a vast audience. Therefore, you end up selling various products instead of one or two. This gives you the advantage of holding a large variety for your customers.
Reduced Efforts
Since you will no longer need to write product descriptions, forecast sales, pick products, or package them, it would significantly reduce your efforts. You could invest time providing your sellers with a state-of-the-art marketplace that lets them reach out to a broad audience.
Better Margins
As you save up on various areas, you earn a considerable amount from the seller fees. You will not let any seller sell on your shop for free. Therefore, you can benefit from deciding the margins you would like to set for your store.
Increased Traffic
There is a good chance that sellers utilizing your store also sell on other platforms. This guarantees increased traffic to your website as people visit your website from different sources.
Types of Multi-Vendor Platforms
There are two main types of multi-vendor ecommerce marketplaces: self-hosted and hosted. The one that's right for you depends on multiple factors, such as your budget and your level of comfort with technology.
Open Source (Self-Hosted)
Open-source multi-vendor marketplace software makes available for you to use on your own. Open source means that the code is accessible and available for customization if you want to add or change features. Though many open source solutions are available for free, the two are not interchangeable. You may still need to pay a fee for a software license.
It's up to you to find the right hosting environment for your website. And with that comes maintenance and security requirements. You're on your own with all of that – and if you don't have the budget to hire developers – it will be better for you to go with a hosted solution.
Software as a Service (SaaS)
SaaS takes care of all the hosting and everything for you in exchange for a fee. This may be monthly or annually, depending on the terms of your agreement.
You won't have to worry about hosting, but you don't have ultimate control over the software, features, and functions.
This is best for people who don't have much technical skill and don't want to deal with the hassle of setup and maintenance.
Why the multi-vendor marketplace rush?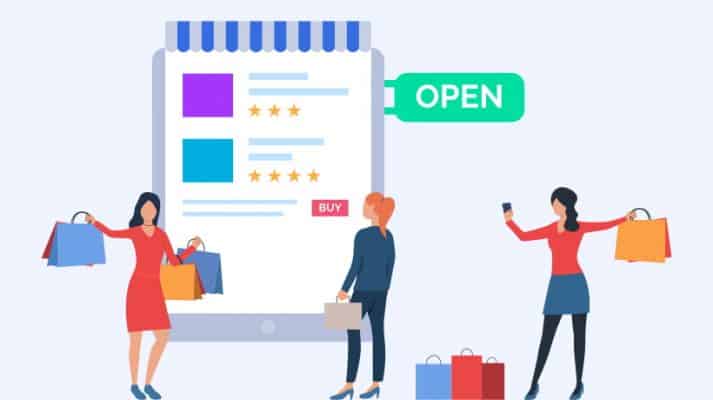 The interest in multi-vendor platforms is entirely new. That's because ecommerce entrepreneurs didn't know the benefits of launching a multi-vendor online store and becoming part of them. Here are the advantages of launching an online store with multi-seller capabilities:
For multi-vendor platform owners, the benefits are enormous and are explained in detail in the business model section. Here's why wholesalers, brands, and entrepreneurs are either launching multi-vendor stores or joining them:
Small vendors who don't want to invest money in creating their own online store but want to sell more join multi-vendor platforms.
Sellers with dreams of selling nationwide or globally without making a huge investment join multi-seller platforms.
Speeding up sales and growth is easier for ecommerce entrepreneurs by joining marketplaces with a huge audience base.
For consumers, the value is generated mainly in the form of:
Limitless choice of products
Competitive pricing
Better support
Deep discounts
Simplified decision-making through reviews.
While the benefits of launching a multi-vendor online store are undoubtedly huge, building one can be slightly tricky for someone who isn't familiar with the suitable options.
How to start a multi-vendor marketplace?
Starting a multi-vendor marketplace isn't as complex as some years ago. It can be created by:
Building it from scratch: Building a multi-seller marketplace from the ground up requires custom e-commerce development. This means you will have to engage a team of designers, developers, and analysts to build your platform from scratch.
This process is not only time-consuming but costly as well. Established brands prefer this model to get everything just the way they want.
Using marketplace software: Since custom development is not everyone's tea, entrepreneurs use multi-vendor store builders to launch their venture. These solutions promise quick turnaround, cost savings, and everything you need to establish a robust multi-seller store.
Conclusion
It is crucial to figure out the payment options you provide to your buyer. Learn about the different payment gateways and adopt as many as you can. A more significant number of payment modes persuade the buyer to purchase more quickly.
To sum it up, multi-vendor marketplaces are an excellent option for beginning your large-scale venture! You must explore this option if you do not necessarily want to sell something specific. Get in touch with companies that offer multi-vendor website options and begin setting up your store today.