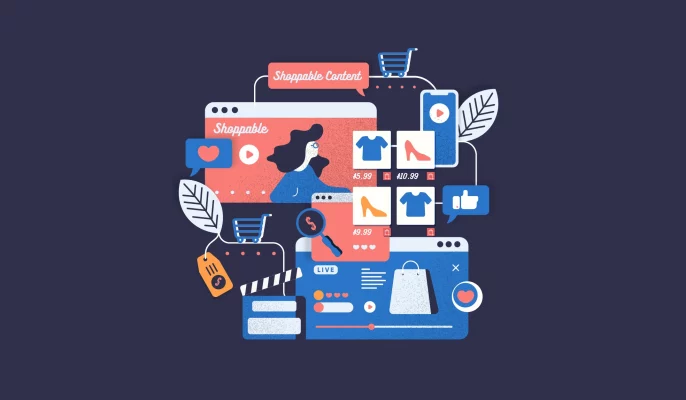 In this piece, we'll look at shoppable content and why it's helpful in direct-to-consumer businesses. More importantly, we provide helpful hints for developing high-performing shoppable content.
Every company uses social media with one purpose in mind: to increase conversions.
Even if their original purpose is to build their account or promote a specific product for a limited time, the ultimate goal is to increase sales through such efforts. This is why shoppable content is essential to a company's social media strategy.
Let's get this party started.
What Is Shoppable Content, and How Does It Work?
Shoppable content is any online material that allows customers to purchase without leaving the site, either by directing them to the product page or allowing them to add it to their basket.
This material can range from photographs and videos to social media postings and advertisements. It usually includes product tags that allow customers to learn more about a product on the site.
Remember that shoppable content isn't limited to social media; you may also find it on websites that publish articles and video platforms.
Customers may be able to view all of the crucial product data on the original platform, but certain shoppable content needs them to make their purchase on the brand's website.
Customers can even finish the checkout procedure without leaving the platform in most current ones. This is true for shoppable posts on Facebook, Instagram, Pinterest, and TikTok, among other platforms.
Users can finish their purchase with only a few clicks in both circumstances, shortening the client purchasing trip. And this is what shoppable content is all about.
Shoppable Content Types
You'll need to know the many sorts of material you can make "shoppable" to make the most of shoppable content for your business.
This will enable you to determine which forms of shoppable content are most appropriate for your business and target audience.
There are four different forms of shoppable content:
Shoppable Posts on Social Media
These social media postings with product tags are perhaps one of the most popular types of shoppable content. This function is available on Instagram, Facebook, Pinterest, and TikTok, among other social media sites.
Users are brought to a relevant product page inside the platform when they click on the product tags, where they may examine details such as product name, pricing, product description, and extra photos.
They'll also have the option of adding it to their cart straight on the platform or visiting the brand's website for further information. Users can also use the back arrow at the top to depart the page and return to it later.
This is a highly effective approach to increase brand conversions without interfering with the user's surfing experience.
Remember, though, that shoppable Instagram posts are only available on the mobile app, so you won't be able to see them on your computer.
Shoppable Ads
These ads make it simple for potential customers to make an immediate purchase if they are interested in the goods being marketed.
These shoppable advertising, mostly found on social media, can include videos or photos and contain a "Shop Now" or "Buy Now" button that directs users to the appropriate page where they can finish their purchase.
These shoppable ads have a reasonable possibility of producing conversions due to the reduced user journey. Users can even click through several things in the ad to discover something they like in certain shoppable advertising.
Shoppable Videos
These are usually videos with embedded links that allow viewers to learn more about the product and purchase it. The link is placed as a card in the description on networks like YouTube.
Making films shoppable is a terrific method to promote immediate action, especially since videos are a powerful tool for influencing purchasing decisions.
Shoppable Articles
Shoppable articles are articles that include written product information as well as clickable buttons that allow readers to buy the item or learn more about it. These articles find on review sites and affiliate marketing websites.
The Advantages of Shoppable Content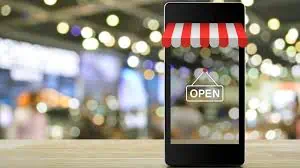 Now comes the crucial question: why make shoppable content first?
Is shoppable content so valuable that you should devote time and money to it?
Here are some of the most significant advantages of shoppable content for your company:
Shortened Buying Journey
Shoppable content allows you to build a smooth customer journey by enabling customers to complete purchases in just a few clicks.
Because the buying path involves fewer phases, there are fewer chances of snags and irritation preventing clients from completing their purchases.
Improved Customer Service
Customers will have a better shopping experience due to a shorter buying trip.
Customers don't have to go through a lengthy process of researching products, switching platforms, accessing your website, and manually discovering what they want before making a purchase.
Instead, consumers can complete their purchase within minutes of discovering it on social media, improving their whole experience.
Getting in Touch with People Who Are Interested in Buying
As they surf social media, many consumers seek purchase inspiration, indicating that they are ready to shop and convert.
Shoppable content allows you to take advantage of this purchasing readiness by enabling you to buy anything immediately after seeing it advertised or shared on social media.
Conversions have increased.
Because of those above, shoppable content allows you to increase your conversions.
Customers will abandon their carts less frequently due to complex purchasing processes because they may complete their purchases in only a few clicks.
Put another way; you boost their chances of completing a purchase. This finally leads to more conversions for your company.
Creating Shoppable Content: Best Practices
There are a plethora of reasons why you should begin developing shoppable content. However, you must be wise in your approach to get the most out of this content type and extract genuine value.
When designing shoppable content, here are some best practices to follow:
Demonstrate How Your Product Works
The purpose of producing shoppable content is to encourage people to buy things straight from it. This is why it's critical to present your goods to encourage customers to buy immediately after viewing the content.
This entails demonstrating your product in action, whether through photos of people using it or films confirming how to utilize it.
You could, for example, publish a shoppable image of your home décor items presented elegantly in a room. Alternatively, you could post a shoppable image of someone using your makeup to create a distinct look.
In the shoppable post from Emerica, you can find a fantastic example. The image of a skater wearing their shoes in a real skateboarding context is an excellent approach to boost conversions for a skateboarding business that provides footwear and apparel for skateboarders.
It depicts the product used by someone who fits the brand's target audience, creating a solid case for the brand.
Promoting a Sale with Shoppable Posts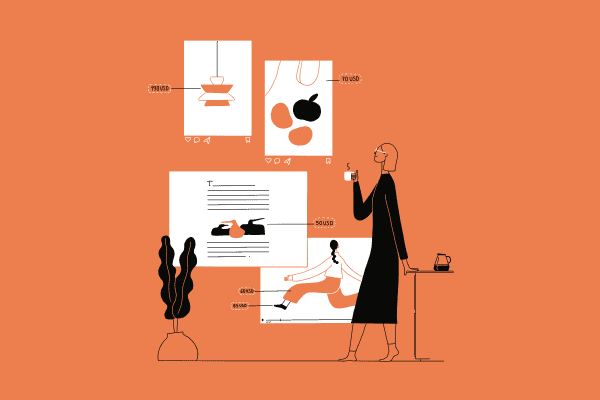 Shoppable posts are a terrific method to promote a sale on social media since they make it easy to make a purchase.
If you want to get as many sales as possible during your sale, share shoppable photographs with a message about it.
Customers who don't want to miss out on the deal can click through and purchase things that are currently on sale before they sell out. You don't have to make shoppable posts for all of your on-sale items.
Use this chance to highlight some of your best-selling products or low-stock items to encourage additional purchases.
Please look at how Bird Brooklyn uses a shoppable post to promote select products and includes a message about their current promotion.
Customers can shop the items in each photo by expanding the images and taking advantage of the sale.
Utilize User-Generated Content (UGC)
Another successful strategy to boost sales through your shoppable articles is to use user-generated content. Consumers who shop for something online frequently look for social proof through user evaluations and images.
This allows them to check if other customers have endorsed the product and how it appears on real individuals. This is why customer-generated content could be a helpful asset for your shoppable posts.
After getting permission from the user, make the content into a post that allows others to buy the product or learn more about it directly by clicking through.
Glossier does a fantastic job curating user-generated material, which has helped the company develop a natural, friendly, and human image.
They've even turned some user-generated content into shoppable Instagram posts where users can learn more about the products and make a purchase.
This is especially handy for their cosmetics since customers may see how a particular lip gloss appears on someone with a skin tone close to their own.
A Carousel is a great way to display your product line.
Some of the people who see your shoppable content are merely looking around. They might not immediately fall in love with the one product you choose to highlight in a shoppable post.
Alternatively, they may prefer a less expensive alternative or one that is more in line with their unique taste.
In either case, they'll want to do a little purchasing while there, just like they do when they come to your business.
This is why using a single carousel post to highlight the breadth of available products is beneficial. Allow customers to swipe or click through your store's many product possibilities.
They'll probably discover something they like among these various possibilities. Even if they don't, they could be interested in checking out the remainder of your website's offerings.
Please provide all pertinent information.
Because you want individuals to buy immediately after seeing your content, you should provide them with all the information they need to decide.
This entails giving them all the necessary information, such as the material utilized, the heel height, the color options, and the pricing.
Make Your Setting Perfect
If you want customers to buy your products immediately, you need to ensure they're presented in the most appealing way possible.
Make sure your atmosphere is correct so that the goods look attractive enough to entice a purchase on the spur of the moment.
This would entail showcasing your product against contrasting backgrounds or alongside complementary-colored items.
Converting Content into Sales
Shoppable content may be the ideal tool for driving conversions and increasing income for your store because of its convenience.
However, ensure you're designing shoppable content intelligently so you can persuade customers to make impulse purchases or help them make better purchasing decisions.
The basis of your social commerce empire is shoppable content.
Conclusion
Add social commerce to your digital marketing (and sales) plan is not too late. Because social purchasing is still relatively young, there is lots of room to stake a position.
Just make sure you have the proper equipment. Prepare to make downloadable material a key component of your social media strategy.