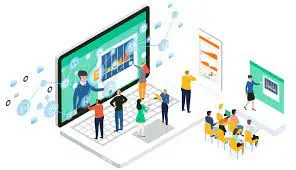 Today, virtual events are a flourishing segment of the events industry. Many organizations are looking at the prospect of hybrid events, which would allow for both in-person attendance and virtual event features.
This kind of online event can give a promoter the most audience reach by allowing people to participate whether they can physically make it to the venue or not.
What is a Virtual Event Platform?
A virtual event platform is made to facilitate the hosting and advertising of events online. It seeks to mimic the setting and ambiance of physical events to immerse event participants in a dynamic experience from the comfort of their homes.
The execution of digital events is improved through virtual event platforms. Instead of only watching pre-recorded special guests or showcases, viewers can interact live with the event and the surrounding neighborhood.
Because it is our instinct to connect and participate, virtual event platforms include various communication tools like surveys and live chat to promote connections among attendees.
What are the reasons for using a virtual event platform?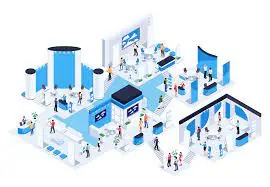 An all-in-one virtual event platform is becoming more and more appealing to organizations and individuals due to the growing emphasis on sustainability and increased familiarity with remote or hybrid work.
At the height of the COVID-19 pandemic, in-person events were prohibited in several markets; however, they are again on the agenda for many brands. However, virtual or hybrid events are still taking place and showing off their benefits. 73% of departments will employ remote workers by 2028.
The future of virtual collaboration is promising. Below is a summary of some of the primary justifications for using a virtual event platform:
Virtual employee events
Over the past two years, there have been substantial changes in the workplace, making it more challenging to plan in-person staff events due to the growth of remote or hybrid working. According to a Gallup survey conducted in February 2022, 42% of workers in roles that allowed for remote work continued to do so, and 39% did so totally.
Thanks to the increased flexibility hybrid work offer, employees are more at ease using digital communication tools than ever before, which has fueled their adoption of online employee events like team-building exercises. Additionally, virtual events can increase employee engagement at your company by enabling all staff members to interact with one another and connect with the brand and culture of the firm.
Career and recruitment
The difficulties in recruiting have been brought to light by the recent labor shortages experienced worldwide. While the EU experienced a labor shortfall or excess of almost one in three workers in 2020, the US reported a record 9.3 million new job opportunities in April of that year.
Businesses today operate in a market that is focused on their employees. Companies must make every effort to attract candidates due to the severe competition for talent. Using virtual career and recruitment events is one strategy companies can use to differentiate themselves from their rivals.
Virtual career fairs can broaden a company's reach, showcase cutting-edge working methods, and offer crucial information that makes it simpler to follow up with the best candidates.
Marketing and demand generation
Virtual events, which use a data-led approach and offer a more integrated audience experience, can be pretty valuable for marketers. A virtual event can deliver a one-on-one connection between the brand and the audience as part of a more extensive marketing campaign rather than acting as a singular encounter.
Virtual events also allow marketers to link event data to their current marketing tools, unlike physical events. Because of the data connectivity, every step of the customer experience can be tracked and mapped, allowing you to spot bottlenecks and boost demand.
Virtual conferences and tradeshows
Moving your trade show from the conference room to the computer screen can significantly positively impact lead generation, accessibility, and visibility. A virtual trade fair can combine a variety of media platforms, from social networks to email to smartphone apps, significantly expanding its reach.
Unlike in-person events, where a physical place must be booked to accommodate participants, virtual trade exhibitions can also be less expensive. Breakout rooms offer the ideal opportunity for a more private virtual setting, replicating the one-on-one meet-ups that are essential to in-person trade exhibitions and conferences.
More sustainable events and meetings
The travel, energy, and waste involved with in-person events contribute significantly to the events industry's carbon footprint. An individual conference participant typically emits more than 170 kilos of CO2 daily.
When the costs of a trade show or conference are totaled up, it is simple to understand why the events sector wants to raise its sustainability standards.
The good news is that virtual events have much-reduced carbon emissions. According to this Nature study, an event's carbon footprint and energy consumption are reduced by 94% and 90%, respectively, by switching from an in-person to a virtual conference.
Sustainable, digital events are likely to become more typical, allowing the events business to play a more significant part in mitigating climate change.
Why do you need a virtual event platform?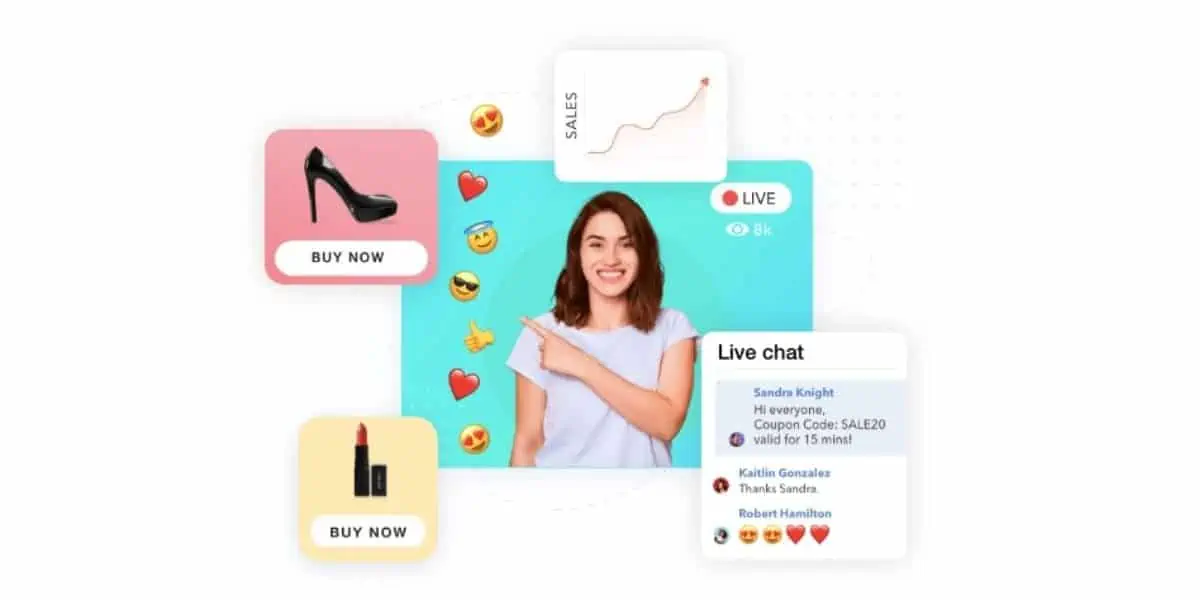 If you want to host an online event, an event platform is suitable for the job. Online event platforms are purpose-built for events and their specific requirements:
Scale: Event platforms are made for 1-to-many broadcasts, whereas video conferencing or collaboration solutions are made for 1-to-1 or 1-to-few interactions (such as small group meetings or working sessions). Many users can simultaneously use event platforms. For example, Hopin can accommodate up to 100,000 users at once. As a general rule, consider using a virtual event platform if you are holding an event for more than 25 people.
Simultaneous content: Events frequently feature several tracks of content playing simultaneously. Event platforms enable more complicated programming, including concurrent content, because they provide various virtual places within a single, overarching online environment. To join a different video conference, attendees do not need to click a new link. Instead, users can move between virtual rooms without leaving the main event area.
Networking: Events involve consuming and engaging with content but also involve people meeting and forming connections. This unusual situation is made possible by a virtual event platform, which offers space to host content for a big audience while enabling participants to interact informally within the framework of the main event. For instance, the Hopin event platform offers designated virtual spaces for 1-on-1 video networking inside the event.
Control and customization: Events are not unplanned. Your online event content, which hundreds or tens of thousands may see, should be under your control, just as it is for your physical event. Unlike video conferencing systems that do not readily allow, virtual event platforms let you design and craft your online venue, program, virtual places, and content.
What can you do with a virtual event platform?
Using an event platform, you can arrange enjoyable online gatherings that mimic real-life in-person ones.
This indicates that a top-notch virtual event platform will let you host keynote speakers, sell tickets, distribute material, examine attendance data, and handle every aspect of your event from beginning to end—from a practical digital dashboard. What else can you accomplish using an online event platform?
Host multiple kinds of content
As was already said, having access to multiple virtual rooms is one of the main benefits of a virtual event platform. This entails that you can hold numerous seminars, workshops, etc., all at once.
For instance, you might open your online event with a keynote address for all guests utilizing an event platform like Hopin. You can offer your audience the option to attend Session A, Workshop B, or a 1-on-1 video networking meeting after your speaker has finished speaking.
By allowing guests to select the content they want to consume, this method of segmenting your virtual conferences enables you to organize more engaging meetings.
Facilitate networking
There are many reasons why people go to industry events: to network with other professionals, to get out of their daily routines, to promote their businesses, etc.
However, they also network with other industry experts and advance their careers. This is a crucial idea. If guests cannot interact with one another, your events will be significantly less satisfying for them.
Fortunately, the most effective virtual event systems offer participants unique opportunities to network with their peers via private video sessions that take place within the overall framework of the event.
Engage attendees
Regardless of the event, you want to host—in-person, online, or hybrid—audience engagement needs to be your top goal.
Why?
Because engaged guests are satisfied attendees, satisfied attendees are more likely to attend your future events, give them excellent social media evaluations, and persuade their friends and coworkers to do the same.
Attendee engagement is challenging, especially in online contexts. However, with features like these, online event platforms facilitate audience engagement
Video Q&A
Video networking
Breakout rooms
Collaborative whiteboarding
Audience polls and surveys
Public and private chat
Interactive games
Learn about your audience
Data is the fuel for modern business. You can make better selections the more of it you have.
In this particular area, virtual events outperform actual ones. You can access user analytics with the right virtual event platform to know which sessions your attendees saw, how long they watched for, whether they participated in the sessions and other information.
Then you may find messaging and material that resonates with your target audience, use this knowledge to optimize future events, or even use it to guide more general marketing or business decisions.
Customize your event
Many virtual event systems let hosts add company logos and graphics, change fonts, and use colors and other customizations to their gatherings.
By personalizing the appearance of your virtual event, you contribute to set it apart from other events in your niche and rival companies.
Build your business
An event platform also enables you to establish stronger relationships with your target market and gain more knowledge about them.
Your business can establish itself as an authority in its industry and win the trust of your ideal clients by holding reputable virtual events.
As previously noted, the analytics dashboard in the event platform will also provide you with more information about those customers. You may effectively take prospects along the buyer's journey by doing both.
Conclusion
An influential virtual event is built on an event platform. With the help of this kind of software, you can design online events that mimic the feel of a physical gathering while simultaneously attracting and involving a broader, more varied audience.
Reach, participation, ROI and cost-efficiency, audience analytics, etc., are all unique benefits of virtual events. Event planners can maximize the potential of online events by utilizing an event platform. A system created specifically to conduct multidimensional events.