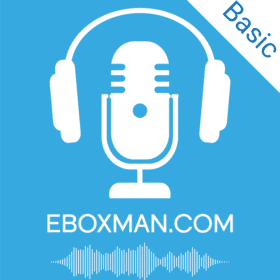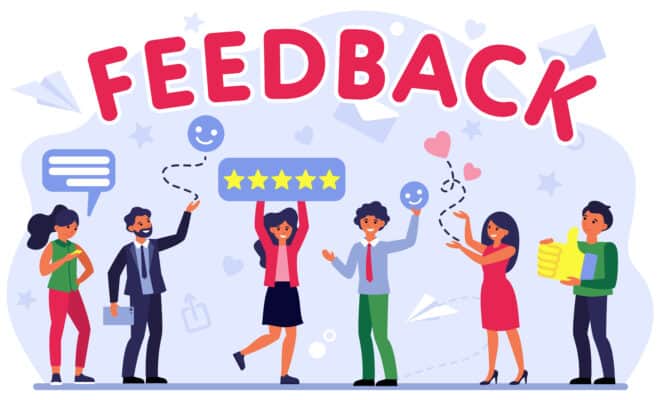 As you may already know, Facebook just introduced a new Facebook customer feedback score which could have a significant effect on your ad campaign. Today, we will discuss some hacks we would use to improve Facebook Feedback Score so that it could bring you a positive impact on your business.
What is Facebook Feedback Score?
Facebook can send surveys to buyers to ask them to give feedback and their opinion on their purchase experiences, or their opinions on an ad, etc. Based on that data, the Facebook Feedback Score is calculated. You can visit Customer Feedback Page here: https://www.facebook.com/ads/customer_feedback/
Then on a scale from 0 to 5, with 5 is the best, it can tell how your buyers, your audiences are happy about your store or your service.
If your Page's feedback score drops to 3 and below, Facebook will inform you through emails. And if it falls to, let's say, 1 or 0, you will receive the penalty in which your ads will no longer display on the platform anymore.
You can find out more about Facebook Feedback Score on Facebook Business Page here: https://www.facebook.com/business/help/108127923199330
How to improve Facebook Feedback Score?
Understanding the impact that Facebook Feedback Score could have on your ad, we would like to share some tips that you can improve Facebook Feedback Score for your page. If you don't want to receive the penalty or the restriction, you can follow this hack.
This is the journey we could improve Facebook Feedback Score from the penalty score to 5. At some point in your business, you can have problems like shipping delays. And that's the worst. That makes your score plummet. Your page gets the penalty. Your ads are not allowed to display anymore.
At first, you could send the document to explain to Facebook, which includes:
Beside, go to Customer Feedback Page and set delivery speed up to more than 8 weeks so that it takes some time before Facebook could send surveys to buyers. Get your Customers Service team to collect feedback from regular customers. Launch the marketing campaign which encourages your customers to give feedback and receive gifts in return on your page, group, etc,..
This is how exactly to do that:
Step 1: Create Landing Page to inform about the campaign in which customers will receive gift cards, free gifts if they send feedback on your store. Then give them step-by-step instruction through video.
The content could be when they see the ads, interact and leave feedback. On desktop, go to https://www.facebook.com/ads/activity. On phone, open the app and go to Settings, then click Recent Ad Activity.
Step 2: Send to your regular customers who have good buying experiences at your store and run ads to your happy buyers. Then create Customer Audience. By the way, you should not call for interaction in your ad copy to avoid being targeted by Facebook.
Step 3: Retarget to the Customer Audience that you have created with whatever content. The purpose is to run ads for your customers to interact and give feedback.
With those solutions, for our case, the score increased to 2.9 which is low, but then to 3.5, 3.7, 4.6, and then finally 5 in the end. From being penalized, we got Facebook to accept supporting docs for the explanation, change to on probation, then run ads to collect feedbacks, and then improve Facebook Feedback Score dramatically.
In the below picture, our score is 3.5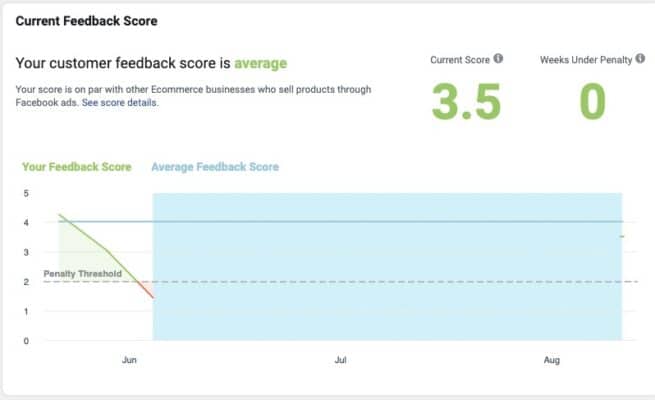 Then 4.6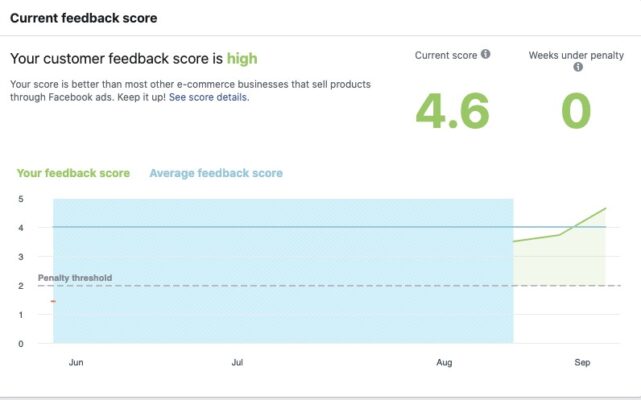 And then 5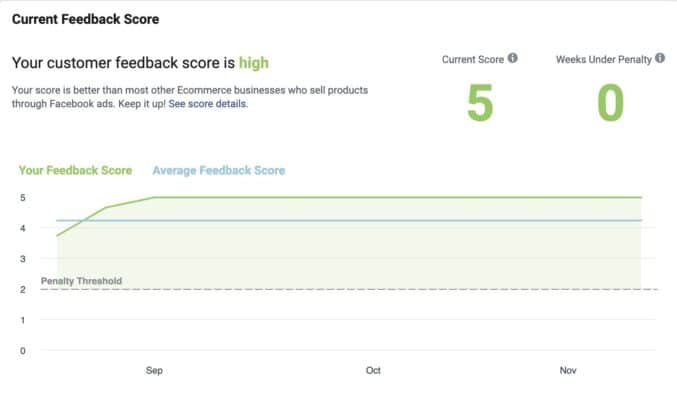 In addition, in order to improve Facebook Feedback Score, you could urgently hire more Customer Service staff to cover all shifts, day and night, to respond to your customers as quickly as possible. If there is any update from shippers or suppliers, inform on your page, store, group, email, campaign fully and promptly.
Basically, some customers just want your answers and update actively. Don't let them get angry or dispute with you then the situation will be more difficult to handle.
And that's our advice on how you could improve Facebook Feedback Score, hope it will help when you encounter the same problems or in case you just want to improve your score.