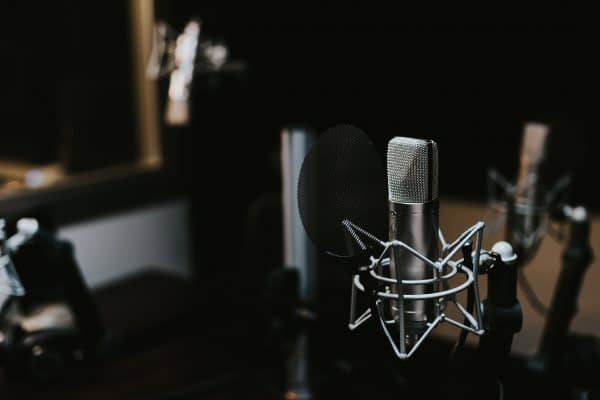 It's easy to notice that Podcasts now are becoming more popular than ever before. Many podcasts with many topics are released for people to listen to when they are in the buses, when they are traveling, driving, or going to sleep. Many people so enjoy listening than reading long pages of blogging or news.
And this is also the time you can consider following the trend and begin to use podcasts to promote your brand in 2022. So, let's find out more in this article!
Reasons Why You Should Use Podcasts To Promote Your Brand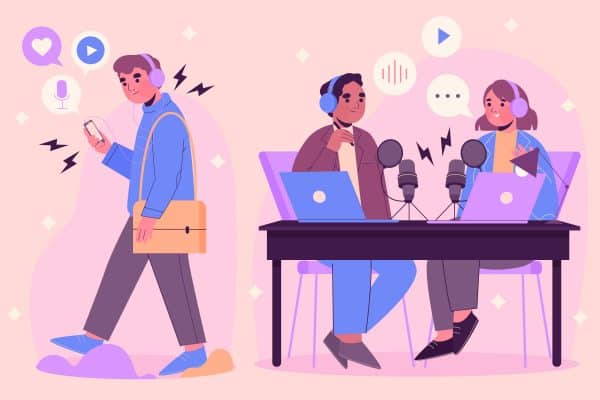 Broader audience
Now with podcasts, you not only can target those who sit in front of their desktops or browse their phones, but you also target the ones who are on the go, like driving or traveling. Anyone at any age who has a smartphone can listen to podcasts.
It's quicker and easier to speak than write
Writing a blog may take a lot of time. Because you need to look at your writing carefully to make sure it reads well and sounds professional. But with podcasts, you can just be natural like you are talking with your audience.
Listening takes less effort than reading
It's easier for people to just listen than reading. When reading, they need to focus more. And it takes more effort. But when people listen to podcasts, they can just do it while they are doing something else.
How to Use Podcasts to Promote Your Brand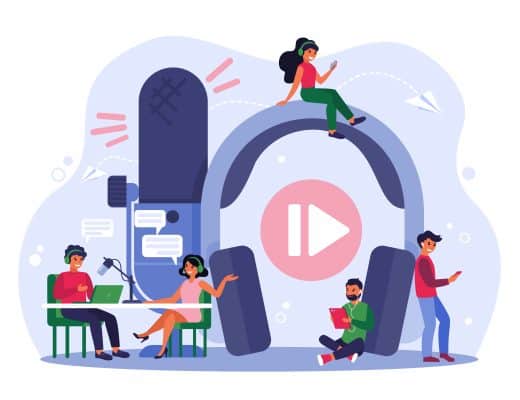 Now, you may know that podcasts are a good idea. But how can you use podcasts to promote your brand and market your products? We will explore this part:
Share trends and interesting topics with your audience
You can communicate with your audience by sharing useful information or interesting news with them. The purpose is to hook them into your podcast channel.  If they begin to subscribe to your channel and listen to you more, there's a greater chance that you can successfully use podcasts to promote your brand, engage with your audience and increase brand awareness among people.
Share your expertise
If you are an expert in any field, then it's awesome! You can host a podcast. And you can share your expertise with your audience. That will bring true value to people. If people see that you are an expert, they will trust you more. And that means you've already built up your authority. More importantly, when people can listen to your voice and your speaking manner, they tend to trust easier than when they read your articles.
Write blogs and use podcasts to promote your brand at the same time
You can use both blog posts and podcasts for your content marketing. By doing so, you will be able to reach a broader audience: those who like to read and listen. You can speak the topic in your blog or vice versa, wiring a blog from your podcasts.
Some Tips To Use Podcasts to Promote Your Brand
Invite a guest
You don't have to record a mono talk. You can invite a guest to do podcasts with you. For example, you can interview a dropshipping agent expert to share about hot eCommerce trends and topics. That will make your podcasts much more interesting and appealing to people. Furthermore, your guests can also share your podcasts with their audience. It's a great way to collaborate between your brand and experts.
Keep it informative and short
Your podcasts should not exceed 30 minutes. If not, no one is going to be patient enough to follow it through till the end. So, try to offer valuable information but also should go directly to the point to attract people.
Share on your social media
It's important that you also share your podcasts (and blogs) on social media so that you will reach more people.
Schedule your podcasts
It's not recommended that you just post a podcast once in a while without any schedule. As people do not know what to expect and may forget about you soon. So you can also have a podcast calendar and post regularly.
Track your podcast performance
While you do your podcasts, it's also essential to keep an eye on their performance. In that way, you will know if people listen to you or not, what topics or podcasts interest people the most. From there, you can find ways to improve your podcasts and produce new ideas every day. Constantly improving and evaluating is super important.
To Sum Up
There are more and more tools for us to market our brand and products right now. It's recommended that you always update yourself and look for new ways to grow your business. Hope that through this article you will know how to use podcasts to promote your brand and start to kick off your plan.